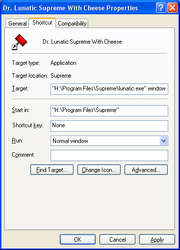 Please note that this will also work for games where you can choose another option, such as "opengl" for Rise of the Owls, just replace window with the argument.
To run a game in windowed mode using Windows, follow these instructions:
Right-click on the shortcut that links to your game. This shortcut is either on your desktop or in your start menu - if no shortcut exists, right-click the game's .exe file and choose "Create Shortcut".
From the menu that pops up, select "Properties".
Select the "Shortcut" card and add a space followed by the word window at the end of the "Target" box.
Click OK and you're done.
Remember that you need to use the exact shortcut you modified to run the game in windowed mode; using any other shortcut or directly running the .exe file will start the game in its regular full-screen mode. It isn't always accurate, though.